The Discarded, the Ontario-based band, is getting ready to release their latest musical project, an animated musical film called The Getgoes. The band is comprised of drummer Caden Jax Wasson, his brother Jared Dean Wasson on bass, and father, veteran rocker J.P. (Joel) Wasson on guitar and vocals. They have recorded and released five albums and one EP since 2016. As the writer and director for The Getgoes, J.P. (Joel) Wasson told us a story about the band's idealism, achieving fame, and internal relationship problems. The Getgoes includes 13 original songs and 8 vignettes.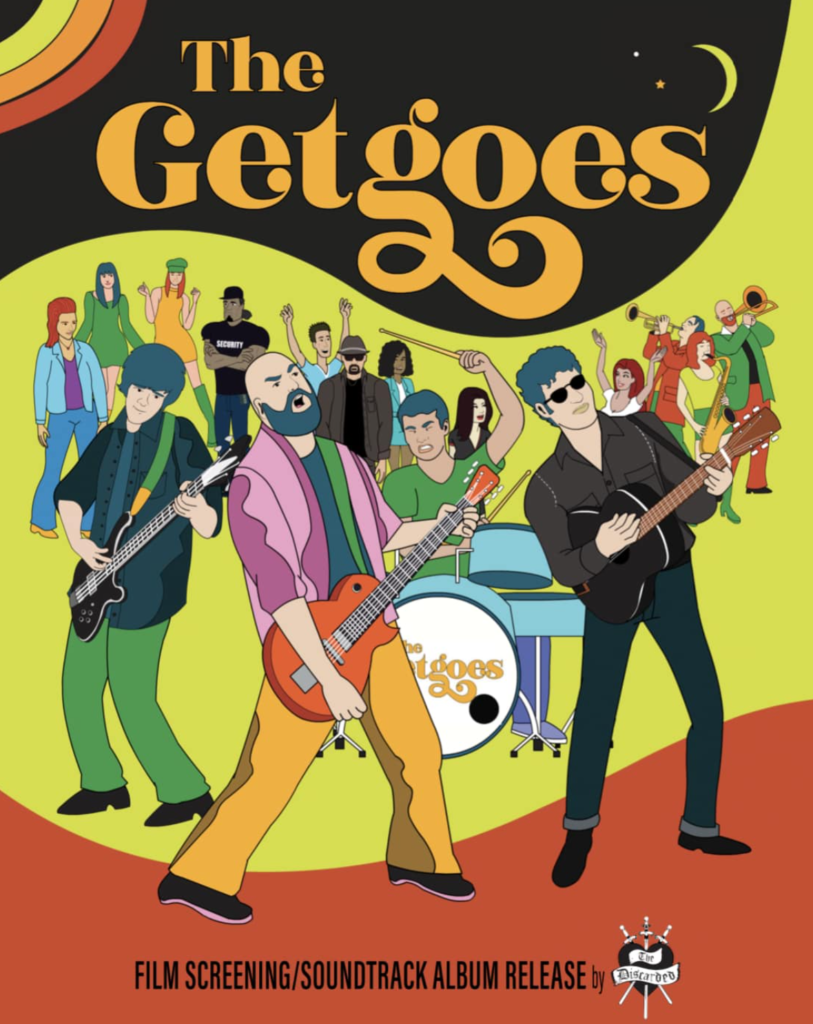 How do you generate the idea of producing the animated film?
It was kind of a way to be able to make a movie that I could afford without having to rent all the sets and have all the actors and everything. Animation is expensive. I had a few friends who are in the animation business and they gave me some crash courses on how I could do it in the most economical way to do it. So with their guidance and Peter Guindon, the animator, we worked together on ideas for each scene and how to bring it to life and tell this story. Sometimes you can think of things, but other people think of things that you will never think of. So it's good to be open to that and bring it into music and in film.
The final launched film definitely focuses a lot on handling details, such as sounds, character design, and so on. What could you tell us about the production during the pandemic?
Yeah. We were really fortunate that there were a lot of people that weren't working. And so a lot of people either did it for really cheap or volunteered to do it. And they invested much more than the dollar value that we had to put into it from the character design. An amazing artist called Kristie Ryder of Poppermost Prints. She did all the design of the characters and decisions on vibrant colors like Yellow Submarine. So she brought that aesthetic to it, which we washed over the whole movie. And then we have a gentleman named Peter Guindon, who is the animator of Hotsy Totsy Graphics. We have another lady, Rachael Muir. She did all our album cover designs. She did all the backgrounds and coloring of all the drawings. We have another lady, Izzy Ziedler who did all the drawings of everything, like the amps and the backgrounds and pictures that you see. And then even my 16-year-old son did the titles and the editing and everything. So it was a family affair.
I have noticed that there are some features of the Beatles, do they influence you a lot on your own musical path?
I'm being a big Beatles fan, and so are my kids, but we don't sound like the Beatles. Kristie Ryder of Poppermost Prints is a big Beatles fan. So that's how we met each other and cooperate. We both have our love of the Beatles. They're the gold standard of a group. That's why it's kind of the basis and the references within the film.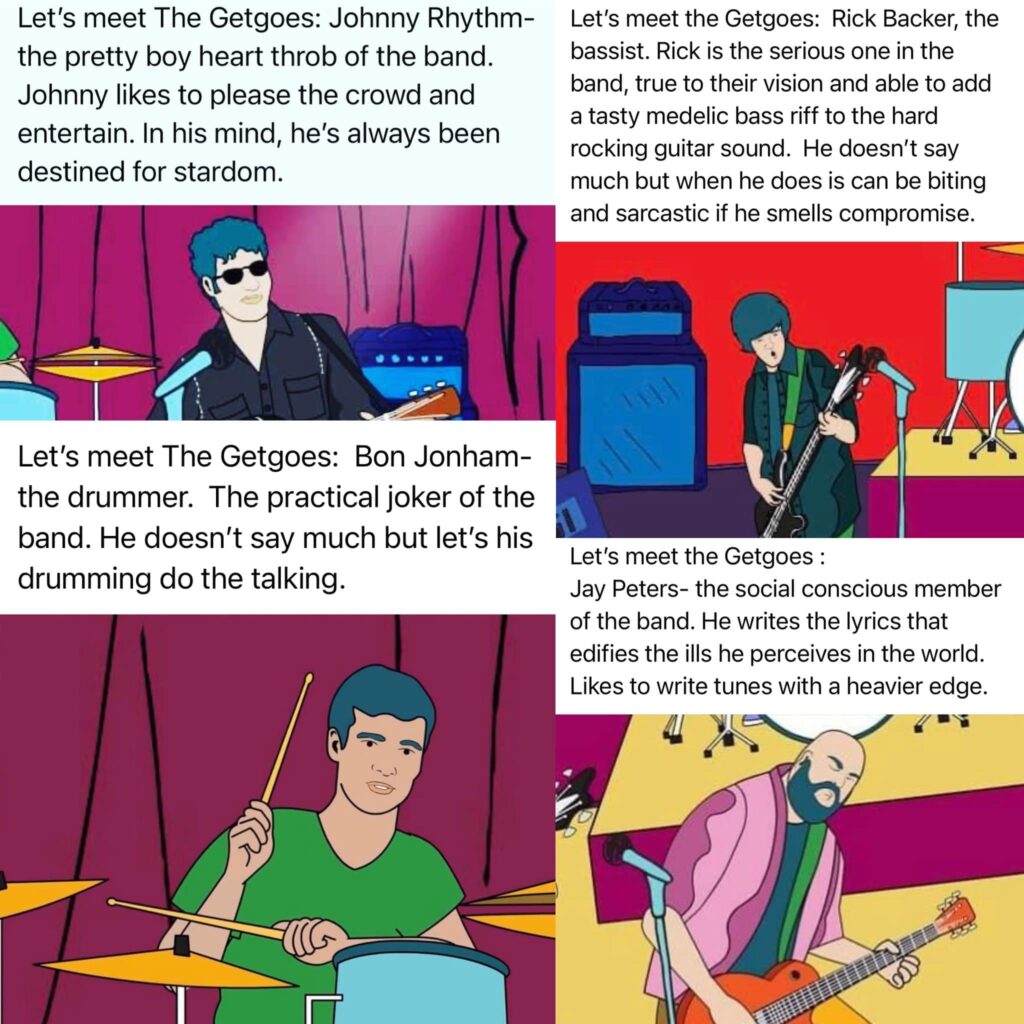 Joel used to be the frontman of the band, but now you are the writer and director for the film, how is feeling about such a change?
Yes. I took film television, wrote other things, and made other small films. It's kind of me getting back out of this music and getting back into being able to do the film aspect of it. So it was nice to kind of step out beside that. Even the last album we did before this one, we did a three-act of play in a rock musical, but just recorded the album there. So this was a way to kind of take my theater background that I had before and draw it into being able to make a film and make it something bigger.
How is your daily life as the father and son rock trio?
Well, it's nice to be able to deal with my children on a different level than being a father and son. You start to be peers and talk about music in a band. They were 13 and 16 when we started, and now they're 20 and 23. So that's quite different than that. A child grows and becomes an adult and you start dealing with them more. And Jared, the bass player, did so much in this. He wrote all the little parts in between, played keyboard parts, and did guitar parts on this as well. He liked quite a bit of this. Right. So it's nice to be able to not just be the dad and kind of relate to them on something that you're passionate about, which was music. And then we could kind of get a bond or a relationship that moves on beyond father and child. It's not really it's kind of like we have a familiarity that we can speak a language, and I'm showing a song and they pick it up right away just because we're related, and then we can understand what each of us are doing.
If you were to suggest only one song for a new listener to check out, which would it be?
I guess it's kind of a rock and roll base thing. So if you're into rock and roll, it depends. If you like the heavy, listen to the heavy. If you like the poppy, listen to the poppy. So there's no right music. Yeah, it's like food. There are many different flavors. Some people only like to eat a certain type of food, and some people like to eat another type of food, and some people enjoy all different varieties of food.
At the end of the film, there's another one called Bubble Gum. That's a very nice song as well, that my son likes. And then there's other heavy stuff he likes called Thoughts and Prayers because it is a message behind it about anti-gun violence and why we shouldn't have guns and people killing people in schools. Thankfully, in Canada, we don't have that as much.
https://thediscarded1.bandcamp.com/album/the-getgoes-ost?fbclid=IwAR0J6F6ICE6fzljOLu4-xN7QpGXRVSw1Wd-AvL8t9IO294Me5lAmZAeFO48
( SOLO Magazine : Elaine Shi)